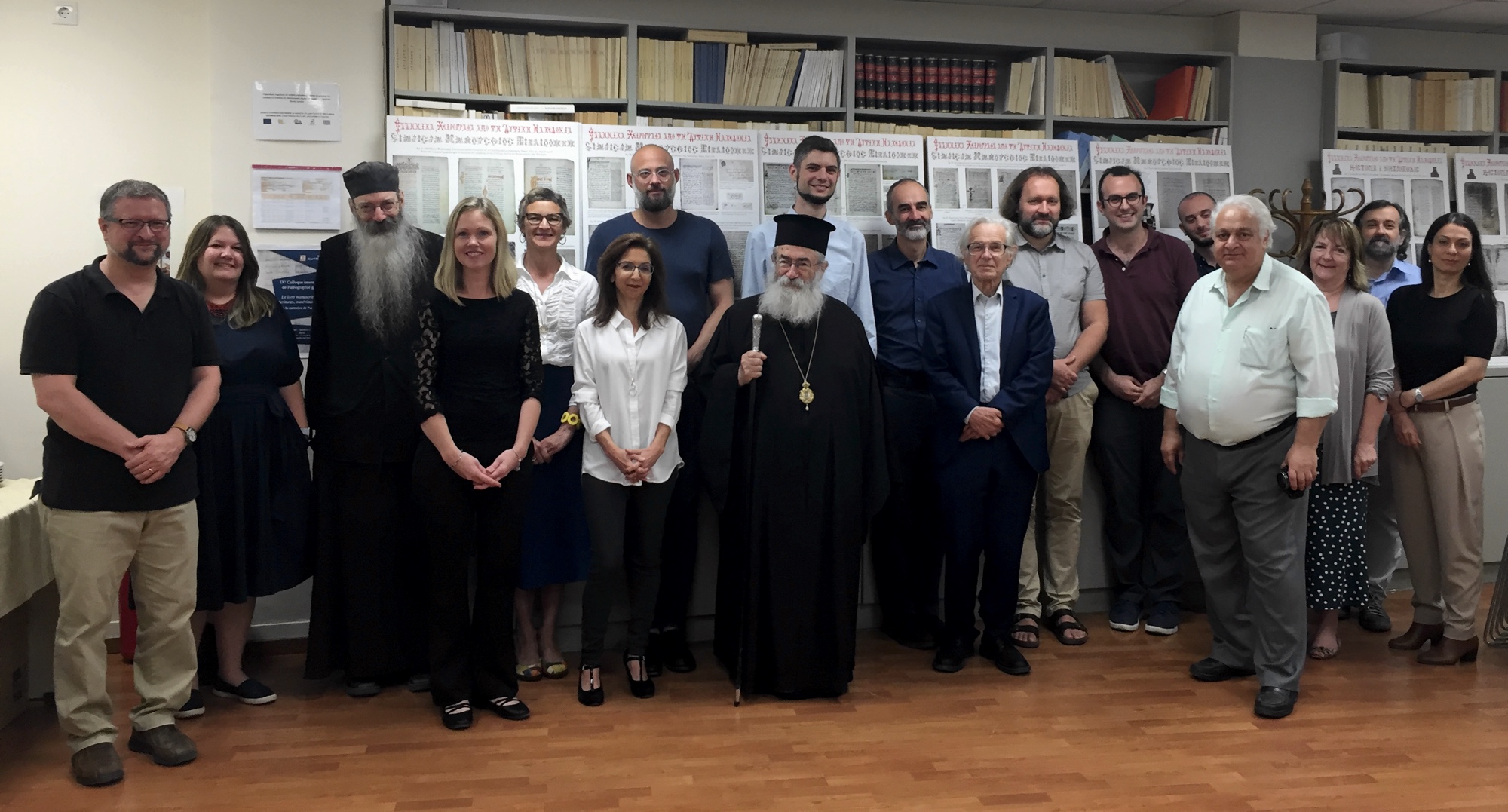 Three members of the Biblia Arabica team joined discussions last weekend in Athens aimed at developing a proposal to catalogue and describe the hundreds of Arabic and Syriac manuscripts in St. Catherine's Monastery of the Sinai, the oldest continuously operating library in the world.
These manuscripts include many of the earliest attested Bible translations into Arabic. They are currently being digitized through a collaboration between St. Catherine's Monastery of the Sinai, the Early Manuscripts Electronic Library (EMEL), and the UCLA Library—a collaboration which has also been repsonsible for the cutting-edge Sinai Palimpsests Project (http://sinaipalimpsests.org/). Both projects have been made possible through funding by Arcadia and the assistance of the Egyptian government.
Scholars at the meetings reflected on how the rich trove of manuscripts could be precisely inventoried and described. Catalogues so far have only covered part of the monastery's priceless collection or provided very few details about each manuscript, making it difficult or even impossible to know what each manuscript contains without handling it in person. Except for those studied by the Sinai Palimpsests Project (which examined manuscripts that were erased and reused in antiquity), there has been very little study of the inks or writing materials used in the manuscripts. If this kind of analysis were included in the new project, it could lead to a new dimension of understanding the history of the monastery library. It could also shed new light on the history of the Arabic book, since the library holds the largest collection of pre-1000 AD Arabic books.
The meeting was hosted by the Historical and Paleographical Archive of the National Bank of Greece Cultural Foundation and was honored on Saturday morning by a visit from Archbishop Damianos of Sinai (see photo).
Sinai manuscripts have been at the core of work by the Biblia Arabica Munich team, which has relied on them in their analysis of translations of the Pentateuch (Ronny Vollandt), the Prophets (Miriam L. Hjälm), and the Pauline Epistles (Vevian Zaki). The team is enthusiastic about the prospects of a project that would make the Sinai manuscripts far more accessible to scholars and Arabic readers and will help preserve them for many generations to come.
See also: UCLA Library to offer digital images of rare ancient manuscripts in Egypt