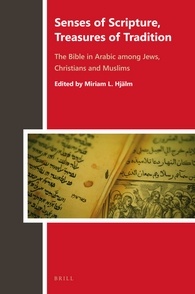 Volume 5 of the Biblia Arabica series is now available online and in print from Brill:
Hjälm, Miriam L. Senses of Scripture, Treasures of Tradition: The Bible in Arabic among Jews, Christians and Muslims. Biblia Arabica 5. Leiden: Brill, 2017. DOI: 10.1163/9789004347403. ISBN: 9789004347403 (online), 9789004347168 (print).
From the publisher:
Senses of Scripture, Treasures of Tradition offers recent findings on the reception, translation and use of the Bible in Arabic among Jews, Samaritans, Christians and Muslims from the early Islamic era to the present day. In this volume, edited by Miriam L. Hjälm, scholars from different fields have joined forces to illuminate various aspects of the Bible in Arabic: it depicts the characteristics of this abundant and diverse textual heritage, describes how the biblical message was made relevant for communities in the Near East and makes hitherto unpublished Arabic texts available. It also shows how various communities interacted in their choice of shared terminology and topics, and how Arabic Bible translations moved from one religious community to another.
Contributors include: Amir Ashur, Mats Eskhult, Nathan Gibson, Dennis Halft, Miriam L. Hjälm, Cornelia Horn, Naḥem Ilan, Rana H. Issa, Geoffrey K. Martin, Roy Michael McCoy III, Juan Pedro Monferrer-Sala, Meirav Nadler-Akirav, Sivan Nir, Meira Polliack, Arik Sadan, Ilana Sasson, David Sklare, Peter Tarras, Alexander Treiger, Frank Weigelt, Vevian Zaki, Marzena Zawanowska.